Finding a reliable digital PR agency for promoting your business can be tricky. The right public relations agency makes or breaks your success among your competitors. So, finding the right fit for your company is a crucial task.
Many businesses are searching for a reliable PR team when they are just starting. It's important not to rush and carefully shortlist PR teams closely matching your business idea and expectations.
This guide will help you understand what a digital PR company does and the important factors you must keep in mind while finding a digital PR company.
What Does a Digital PR Company Do?
Before moving forward, let's understand the role of a digital PR company. A digital PR company manages and enhances your brand's online reputation and visibility through strategic communication, media outreach, and engagement on digital platforms. Their mission is to achieve positive exposure and impactful client results through compelling stories and press releases, manage media relationships, optimize online presence, and analyze data. So far, the budget is up to you; maximum investment can give you maximum results.
Factors to Consider While Finding A Digital PR Agency
Here, we've compiled a list of 8 important things you need to remember while finding a digital PR agency. Take a look!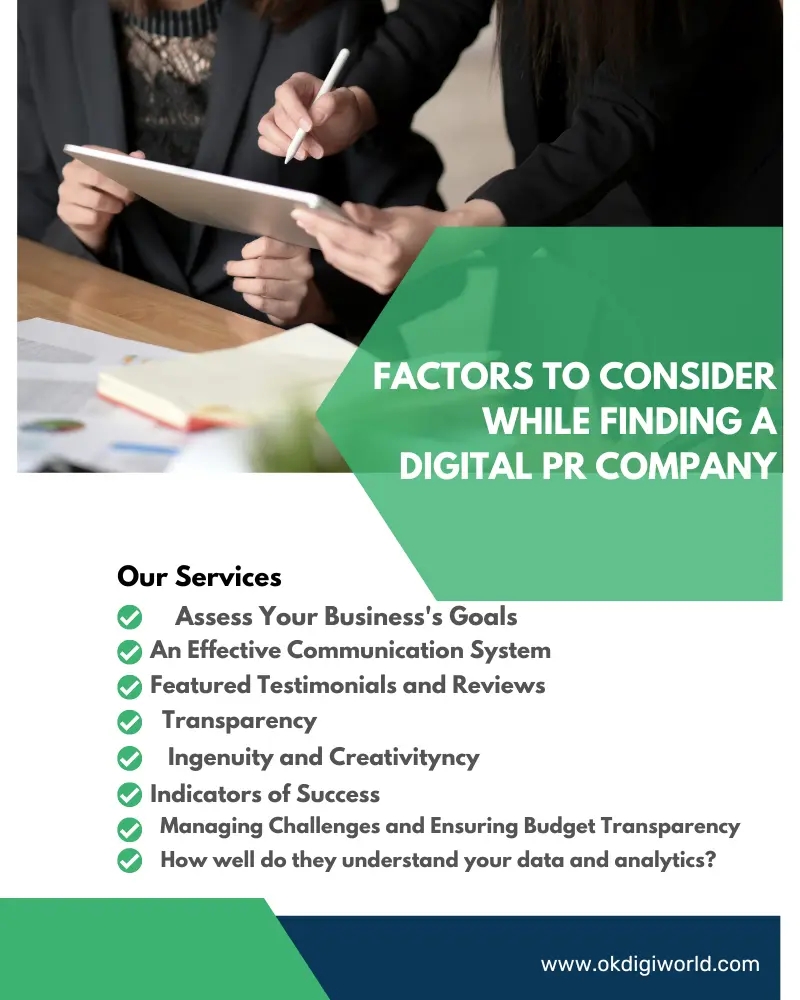 1. Assess Your Business's Goals
The first and foremost thing you need to do is evaluate your organization's business goals. Businesses in open markets must establish themselves on multiple online platforms to maintain a successful digital presence. As part of this, a dedicated personal website is developed, and social media accounts are created to present a brand image of the business.
A credible digital PR agency will help you identify your business goals and plan your digital marketing strategy accordingly. Digital marketing services included digital branding, social media management, SEO (Search Engine Optimization), e-commerce platforms management, and more.
These are all aspects of online marketing that businesses outsource to digital PR agencies. So, make sure that the digital PR agency you choose helps you understand your business goals and prepares a proper plan to achieve those goals.
2. An Effective Communication System
Communication is another important aspect to remember when choosing a digital PR agency. When a time-sensitive issue arises, or you want to launch a new initiative quickly, you'll need a responsive and ready partner to work with you.
Take note of the ease of contacting the PR agency when evaluating their communication style. Is it a hassle? Is it necessary to send multiple emails before a response is received? Asking for an immediate response every time is a bit too much. But the problem arises when you have to send multiple emails and leave a voicemail before they respond. Besides response time, take note of their customer service approach.
Also, a good PR agency should communicate about their services in a way that is understandable to a common person. They should be able to explain complex terms and concepts more simply. Thus, you'll be aware of the agency's marketing strategies.
Moreover, you'll see how those tactics contribute to your business objectives. There's a disconnect if you find a lack of communication with the agency.
3. Featured Testimonials and Reviews
When it comes to PR services, many agencies claim to be experts. Nevertheless, you should always check their experience. See their past work in their case studies. Is there an overall return on investment? How did the number of visitors grow?
Doing so will allow you to see what kind of results the agency can produce. That's how it will get easier for you to develop trust with the PR agency. So, you should also read testimonials and reviews from their website before finalizing the decision.
4. Transparency
We have discussed that communication skills are important, but on top of that, does the communication between you and your PR reflect their actual effort for your business growth? A trustworthy digital PR partner opens the door for collaborative problem-solving.
The client is not left in the dark, wondering about sudden deviations from the initial plan. Instead, they are brought into the fold and engaged in constructive conversations that lead to well-informed decisions.
Transparency during challenging times extends beyond mere notification; it involves comprehensively exploring alternatives. The PR company presents the client with viable solutions during the PR process, highlighting each option's benefits and potential consequences.
With this collaborative approach, any necessary adjustments to the PR strategy are carefully considered, aligned with the client's overarching goals, and preserved.
Furthermore, digital PR companies that handle challenges transparently demonstrate their commitment to their clients. Even in the face of unexpected obstacles, they remain committed to the campaign. By engaging in an open dialogue with their PR partner, the client gains a better understanding of the intricacies of PR.
5. Ingenuity and Creativity
Choosing a creative and innovative PR firm is essential for the success of digital PR campaigns where capturing attention and leaving a lasting impression are essential. This aspect infuses campaigns with innovative strategies, new perspectives, and forward-thinking approaches.
Creativity, at its core, generates ideas that engage audiences and make a lasting impression. Content that stands out amidst the digital noise can be crafted by a dependable digital PR company with the help of creativity. Their creative skills transform mundane concepts into memorable experiences that leave an indelible impression on consumers' minds.
6. Indicators of Success
A credible and reliable PR company achieves meaningful and measurable results. An effective data collection and analysis approach is crucial to delivering measurable results. An effective digital PR company uses advanced tools and methodologies to capture key performance indicators (KPIs) aligned with the client's objectives. A KPI may include website traffic, social media engagement, brand mentions, media coverage, or conversion rates.
In presenting results, more than numbers are shared; meaningful insights must be translated into the data. An effective PR partner provides clients with reports that showcase quantitative metrics and offer qualitative analysis. This analysis aims to highlight trends, patterns, and areas of success in the data in light of the implications of the data.
Further, a good digital PR agency is devoted to providing clients with a holistic view of the data to impact their journey. Measurable results contextualize a PR strategy. Throughout the process, clients better understand how their PR efforts contribute to broader objectives and narratives.
A reliable PR partner isn't shy about highlighting setbacks and obstacles that may have impacted results. Instead, they engage in open dialogue, jointly exploring solutions and refining strategies to enhance future performance.
7. Managing Challenges and Ensuring Budget Transparency
Credible digital PR firms are adept at navigating the complex landscape of managing costs and addressing challenges. A successful and fruitful partnership relies on both aspects being approached transparently.
When addressing PR challenges, transparency means candidly acknowledging potential obstacles. The best digital PR companies communicate openly with their clients, promptly sharing any unexpected shifts in media landscapes, changes in industry dynamics, and unforeseen obstacles that could impact the campaign's progress.
Proactively communicating with clients keeps them informed and promotes collaborative problem-solving. When a PR partner involves the client in the discussion, he or she taps into the client's insights and expertise, exploring viable solutions that align with the client's goals. Through transparent management of challenges, the PR strategy can be adjusted with a shared understanding, preserving the campaign's effectiveness.
A transparent PR partner discloses budget allocations. Clients can learn where their investment goes with this comprehensive overview of PR expenses.
It is also necessary to discuss any additional costs that may arise during the campaign as part of transparent budget management. Digital PR companies ensure that their clients are equipped to make informed decisions without being surprised by unforeseen financial requirements by communicating any such requirements openly.
8. How well do they understand your data and analytics?
Design aesthetics and campaign tactics are not the only factors that transcend this principle. In digital media and marketing, data is king. Whether it's campaign interactions, website user engagement, or conversion analysis, your digital PR agency needs to understand this and be passionate about it.
You should look for a digital partner who can explain what's happening with your campaign and website traffic and why and how changes can be made. Requesting a formal analysis and meeting to discuss the results would be wise.
A proficient data analyst will come across as confident and able to share important insights about your users, traffic sources, site content, and key recommendations. The agency's commitment to Analytics can also be revealed by asking if key members are Google Analytics Certified, as these certifications serve as the gold standard for digital professionals.
Conclusion
Choosing the best digital PR agency plays a crucial role in the success of your business. Hence, you must pay significant importance to choosing the best digital PR agency that fulfills all your business needs.
An expensive PR is not necessarily a good PR. But the best PR is something you or your team has to look for, and we have provided you with all those factors that will ease you in this process.